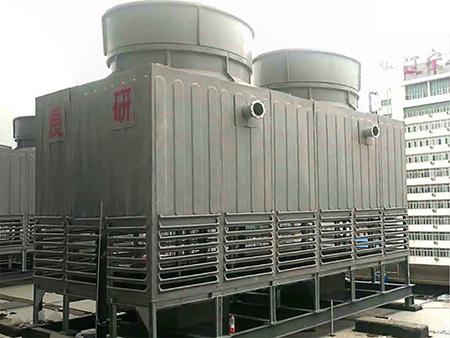 Description
The counterflow cooling tower is suitable for factories that have few requirements for the water quality. The cooling tower is fully sealed, and is thus applicable to harsh environments such as factories full of powder and dust. A nozzle is used for water spraying, and the utilization of pressure ensures water sprays evenly. The fill media of the cooling tower is PVC fillings with an S waveshape along which the water flows down and then fully contacts with the air, thus resulting in a highly efficient heat exchange process. A drift eliminator is installed above the PVC fillings, and both the base and casing of the cooling tower are made of acid and alkali resistant and corrosion resistant advanced fiberglass reinforced plastics (FRP). The overall dimensions of the cooling tower are customizable upon customers' special requirements.
Model Selection
Working principle
The hot water in the counterflow cooling tower is sprinkled on the fill sheets through the sprinkler nozzle, and the heat diffuses and evaporates on the large filling area. The top fan brings in cold air from outside and brings it into contact with the hot water for a heat exchange process to reduce the water temperature, thus, cooling the water so that it can be recycled.
Structure drawings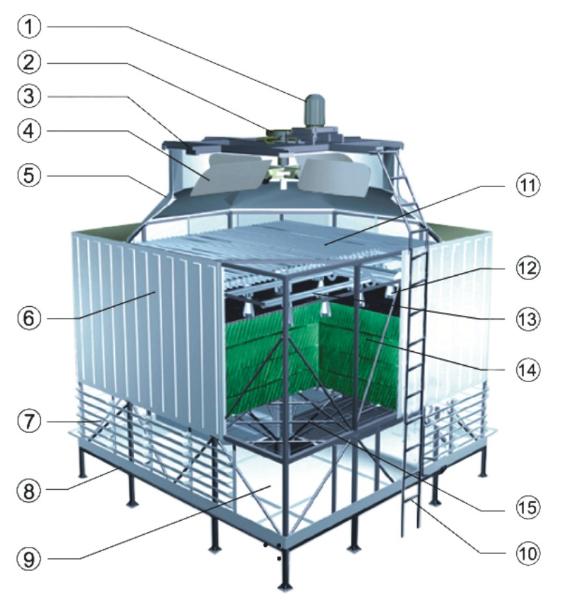 1. Motor
2. V-Belt Reducer
3. Motor Support
4. Fan
5. Fan Stack
6. Casing
7. Louver
8. Basin
9. Frame
10. Ladder
11. Drift Eliminator
12. Nozzle
13. Sprinkler Pipes
14. Fillings
15. Filling Support
Core components
Motor
The IP55 motor is a totally enclosed motor that is corrosion resistant and waterproof, making it suitable for cooling towers used in a high temperature, high humidity environment.
Fan
Made of aluminum alloy and designed with wide twisted blades, the fan features a large air volume and lose noise when running at low speeds.
Fill media
PVC fillings
Optional accessories
Gear reducer, which is durable and requires very little maintenance.
The silencer cotton can be added to the water basin, and the silencer fan stack, or the 30°~60° angled discharge air cylinder can be installed at the air outlet.
Guardrails, safety cages
The structural frame can be made of stainless steel S304, S316, or other customer-specified materials.
The fill media can be high temperature resistant PP fillings
Fastening screws can be made of 304 stainless steel