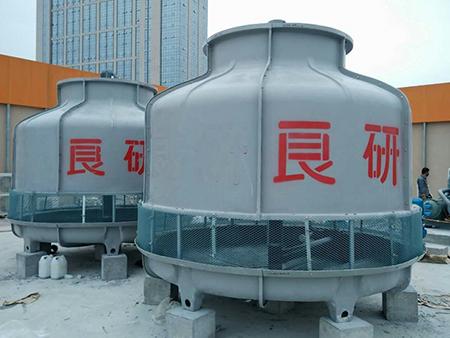 Description
This counterflow cooling tower is widely used for civil applications and factories. It is fully sealed, which makes it ideal for use in harsh environments. It utilizes a rotary water distribution method, and the cooling tower system features a simple structure with a reasonable price. Due to the high quality PP fittings distributed over the honeycomb openings, the heat exchange performance is improved, with an ability to withstand temperatures up to 60℃, and the best possible heat dissipation efficiency. The high temperature resistant cooling tower is capable of withstanding 60-95℃ hot water. The casing and base of the cooling tower are both made of acid and alkali resistant, advanced fiberglass reinforced plastics (FRP). The sprinkler pipes and sprinklers are all made using advanced plastics with no need for a lubricant. The open circuit heat rejection equipment is available in multiple colors, including light grey, sky blue, and light yellow.
Model Selection
Working principle
Through a rotary water distribution system, the hot water is scattered on the fill sheets and then evaporates through a convective contact with the dry air that has been bright in from the bottom via the axial fan at the top. In doing so, the water temperature is reduced, and the cooled water is collected then transferred to the heat source for recycling.
Structure drawings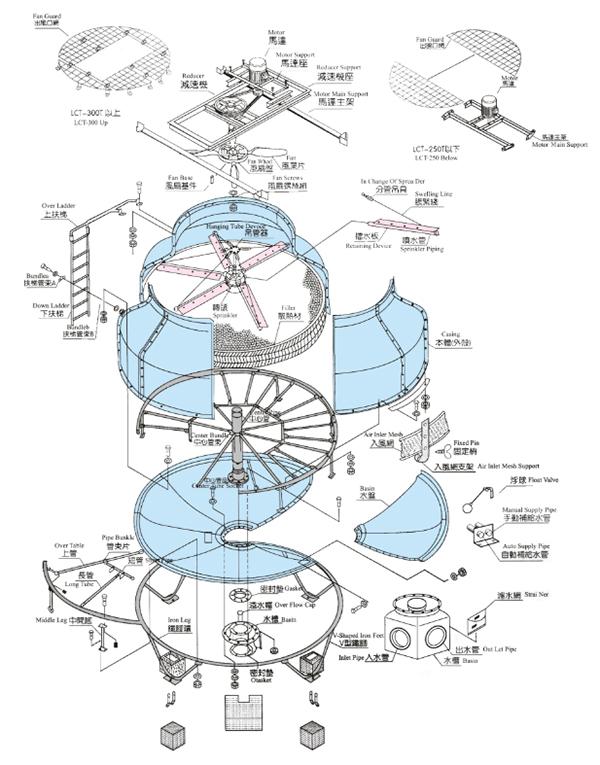 Core components
Motor
The IP55 motor is a special, fully enclosed motor for HVAC systems. It is used because it is especially suitable for high temperature, high humidity environments, and it is both waterproof and corrosion resistant.
Fan
The fan is made of aluminum alloy and designed with wide twisted blades, which features a large air volume and low noise when running at low speeds.
Fill media
S waveshape PVC fillings
Frame
Thickened C-shaped steel with hot-dip galvanized surface features high strength, light weight and corrosion resistance.
Optional accessories
Silencer fan stack
30°~60° angled discharge air cylinder can be installed at the air outlet.
The structural frame can be made of stainless steel S304, S316, or other customer-specified materials.
The fill media can be PP fillings resisting high temperature.
Fastening screws can be made of 304 stainless steel