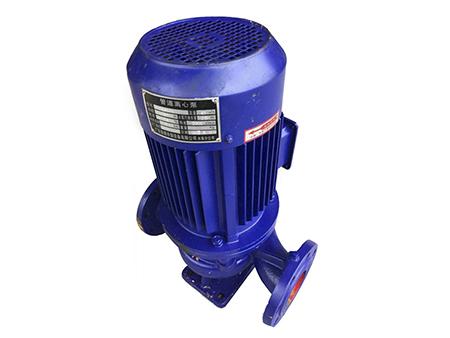 Pump description

Driven by a specially designed low-rotation-speed low-noise motor, the rotatable parts, including the motor and impeller, undergo a balance test to ensure the cooling tower pump is particularly suitable for occasions with high environmental noise requirements. The impeller of this pump type is below 30kW, and is directly mounted on the motor lengthened shaft. For pumps above 27kW, champ couplings are used to connect to the motor. Taking apart the pump cover and impeller requires no dismantling of the inlet and outlet pipelines, thus facilitating replacement of the seal and impeller. The water outlets, which all feature the same diameter and are located on the same axis, can be installed on the pipeline just like valves, ensuring installation is quick and easy.

Application

The vertical centrifugal pump GDB type cooling tower pump mainly transfers clean, non-corrosive water, or liquids with similar physiochemical properties to water and contain no solid particles or fibers. The GDB type cooling tower pump is a pipeline vertical single-stage (single-suction or double-suction) clean water pump. Due to the use of a low rotation speed motor, the noise and vibration levels during operation are greatly reduced, while the service life of the bearing and its quick-wear parts are longer. With a matching heat-rejection device, it is widely used for industrial and agricultural water supply and drainage, running water pressurization, high-rise building water supply, as well as the delivery of chilled water and warm water in central air-conditioning and heating circulation systems.

Performance range

Rotation speed: 1450r/min 980r/min
Capacity: 3.5-2340m3/h
Head: 5-71m
Power: 0.55-200KW

Working conditions

Maximum working temperature: 105℃
Maximum working pressure: 1.6Mpa

Rotation direction

Seen from the direction from the motor to the pump, the pump rotates clockwise.

Motor parameters

Protection level: IP44
Insulation grade: E
Standard voltage: 380V

If you have special requirements for motors, please inform us when ordering.


Main parts and structure drawings:
| | | |
| --- | --- | --- |
| No. | Spare parts | Material |
| 1 | Pump casing | Cast iron |
| 2 | Impeller | Cast iron/bronze |
| 3 | Lower bearing | Aldary |
| 4 | Pump cover | Cast iron |
| 5 | Upper bearing | Alloy |
| 6 | Mechanical seal | Graphite/SIC |
| 7 | Motor | |
| 8 | Motor block | Cast iron |
| 9 | Coupling | Cast Iron |
| 10 | Shaft | 2Cr13 |
Installation

1. Inlet ball valve
2. Straight tube
3. Flexible plastic joint
4. Vibration damping washer
5. Base plate
6. Flexible plastic joint
7. Straight tube
8. Outlet check valve
9. Inlet
10. outlet
Model Explanation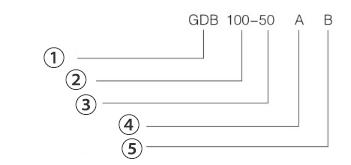 ① Low speed low noise pump
② Pump inlet diameter 100mm
③ Pump head 50m
④ Direct first cutting of the same type impeller
⑤ Direct second cutting of the same type impeller
Model
Capacity Q
Head H (m)
Rotation Speed n (r/min)
Break Power Pa (KW)
Motor Power (KW)
Pump Efficiency η (%)
Net Positive Suction Head (NPSH) r (m)
Weight (kg)
(m3/h)
(l/s)
GDB32-5
6.3
1.74
5
1450
0.16
0.55
54
2.5
36
GDB32-8
6.3
1.74
8
1450
0.29
0.55
48
2.5
38
GDB32-12.5
3.75 6.3 7.5
1.04 1.74 2.08
13 12.5 11
1450
0.41 0.51 0.56
0.75
33 42 44
2.0
48
GDB32-20
3.75 6.3 7.5
1.04 1.74 2.08
21 20 19
1450
0.91 1.07 1.14
1.5
23 32 35
2.0 2.0 2.5
70
GDB32-20A
3.5 5.9 7.0
0.97 1.63 1.94
18 17 16
1450
0.78 0.93 0.98
1.1
22 30 33
2.0 2.0 2.5
66
GDB40-5
12.5
3.47
5
1450
0.27
0.55
62
2.5
38
GDB40-8
12.5
3.47
8
1450
0.49
0.75
60
2.5
47
GDB40-12.5
7.5 12.5 15
2.08 3.47 4.17
13.2 12.5 11.5
1450
0.63 0.77 0.85
1.1
43 55 57
2.0 2.0 2.5
56
GDB40-12.5A
7 11.7 14
1.94 3.25 3.89
11.5 11 10
1450
0.52 0.64 0.67
0.75
43 55 57
2.0 2.0 2.5
51
GDB40-20
7.5 12.5 15
2.08 3.47 4.17
21 20 19
1450
1.23 1.48 1.65
2.2
35 46 48
2.0 2.0 2.5
78
GDB40-20A
7 11.7 14
1.94 3.25 3.89
18 17.5 16.5
1450
1 1.24 1.37
1.5
35 45 47
2.0 2.0 2.5
72
GDB40-30
7.2 12 14
2.08 3.47 3.9
32 30 28
1450
2.3 2.5 2.6
3
25 37 41
2.0 2.0 2.5
102
GDB40-30A
6.5 11 13
1.8 3.1 3.6
24.5 24 22
1450
1.75 1.96 2.1
2.2
24.7 36 40
2.0 2.0 2.5
97
GDB50-8
10.8 18 21.6
3 5 6
9.5 8 7
1450
0.58 0.65 0.71
1.1
48 60 58
2.0 2.5 3.0
62
GDB50-8A
9.5 16 18
2.6 4.4 5
8 7 6
1450
0.43 0.51 0.53
0.75
48 60 56
2.0 2.5 3.0
58
GDB50-12.5
10.8 18 21.6
3 5 6
13.2 12.5 11
1450
0.83 1.11 1.21
1.5
47 55 58
2.0 2.5 3.0
69
Model
Capacity Q
Head H (m)
Rotation Speed n (r/min)
Break Power (KW)
Motor Power (KW)
Pump Efficiency η (%)
Net Positive Suction Head (NPSH) r (m)
Weight (kg)
(m3/h)
(l/s)
GDB50-12.5A
9.5 16 18
2.6 4.4 5
11.6 10.5 10
1450
0.65 0.84 0.92
1.1
53 46 54
2.0 2.5 3.0
64
GDB50-17
10.8 18 21.6
3 5 6
19 17 14
1450
1.87 1.7 1.83
2.2
36 49 45
2.0 2.5 3.0
79
GDB50-20
10.8 18 21.6
3 5 6
23 21 18
1450
1.78 2.18 2.42
3
37 50 47
2.0 2.5 3.0
84
GDB50-30
10.8 18 21.6
3 5 6
33 30 25
1450
2.31 2.82 2.94
4
42 52 50
2.0 2.5 2.8
115
GDB50-30A
9.5 17 20.5
2.9 4.7 5.7
29 26 21.5
1450
1.83 2.36 2.44
3
41 51 49
2.0 2.5 3.0
104
GDB65-8
15 25 30
4.17 6.94 8.33
9 8 7.2
1450
0.67 0.79 0.86
1.5
55 69 68
2.5 2.5 3.0
71
GDB65-12
15 25 30
4.17 6.94 8.33
13.2 12.5 11.5
1450
1.06 1.31 1.44
2.2
51 65 67
2.5 2.5 3.0
82
GDB65-12A
14 23.4 28
3.89 6.5 7.78
11.5 11 10
1450
0.89 1.1 1.2
1.5
50 64 66
2.5 2.5 3.0
76
GDB65-20
15 25 30
4.17 6.94 8.33
21 20 18.8
1450
1.75 2.27 2.52
3
49 60 61
2.5 2.5 3.0
96
GDB65-20A
14 23.4 28
3.89 6.5 7.78
18.4 17.5 16.4
1450
1.44 1.86 2.06
2.2
49 60 69
2.5 2.5 3.0
91
GDB65-32
15 25 30
4.17 4.94 8.33
33 32 31
1450
3.4 4.19 4.6
5.5
39 52 56
2.5 2.5 3.0
126
GDB65-32A
14.3 23.8 28.5
3.97 6.61 7.97
29.5 28.5 26
1450
3.06 3.72 4.09
5.5
38 51 55
2.5 2.5 3.0
125
GDB65-32B
13.6 22.7 27.2
3.77 6.3 7.56
27 25 23
1450
2.54 3.13 3.45
4
38 51 55
2.5 2.5 3.0
103
GDB80-8
50
13.9
8
1450
1.47
2.2
75
3.0
96
GDB80-12
30 50 60
8.33 13.8 16.7
13.3 12.5 11.8
1450
1.84 2.33 2.61
4
60 73 74
2.0 2.5 3.0
110
GDB80-12A
28 46.8 56
7.83 13 15.3
11.9 11 10
1450
1.52 1.92 2.16
3
60 73 74
2.0 2.5 3.0
99
Model
Capacity Q
Head H (m)
Rotation Speed n (r/min)
Break Power (KW)
Motor Power (KW)
Pump Efficiency η (%)
Net Positive Suction Head (NPSH) r (m)
Weight (kg)
(m3/h)
(l/s)
GDB80-20
30 50 60
8.33 13.8 16.7
23 20 15
1450
3.16 4 4.44
5.5
55 68 70
2.0 2.5 3.0
146
GDB80-20A
32 46 56
7.78 13 15.6
20 17 15
1450
1.16 3.28 3.63
4
54 68 70
2.0 2.5 3.0
128
GDB80-20B
25.6 42.8 51.1
7.1 11.8 14.2
15.5 14.5 13.5
1450
2.04 2.54 2.74
3
54 67 69
2.0 2.5 3.0
119
GDB80-32
30 50 60
8.33 13.9 16.7
34 32 30
1450
5.44 6.92 7.67
11
51 63 64
2.0 2.5 3.0
230
GDB80-32A
28.7 47.7 57.5
7.97 13.1 16.1
31 28.5 27
1450
4.74 6 6.7
7.5
51 63 64
2.0 2.5 3.0
175
GDB80-32B
25.7 42.9 51.6
7.14 11.9 14.3
25 23.5 22
1450
3.5 4.5 5
5.5
50 61 62
2.0 2.5 3.0
162
GDB100-12
60 100 120
16.7 27.8 33.3
14.5 12.5 11
1450
3.83 4.48 4.79
5.5
62 76 75
2.5 2.5 3.0
158
GDB100-12A
56 93.5 112
15.6 26 31.1
12.8 11 9.7
1450
3.17 3.7 3.96
4
62 76 75
2.5 2.5 3.0
141
GDB100-12B
52 88 105
14.4 24.4 29.1
11 9.5 8.3
1450
2.68 3.15 3.35
4
58.7 72 71
2.5 2.5 3.0
140
GDB100-15
81.2 125 134
22.6 34.7 37.2
17.5 15.5 14.8
1450
5.65 6.44 6.66
7.5
68.4 82 81
3.0
175
GDB100-19
60 90 120
16.7 27.8 33.3
21 19 15
1450
5.44 6.12 6.36
7.5
63 76 77
2.5 2.5 3.0
178
GDB100-19A
50 80 110
13.9 22.2 30.6
17 15 11.5
1450
3.73 4.35 4.53
5.5
62 75 76
2.5 2.5 3
165
GDB100-21
39 60 75
10.8 16.7 20.8
24 21 16
1450
3.98 4.7 4.74
5.5
64 73 69
2.5 3 3.5
164
GDB100-22
60 108 129.6
16.6 30 36
25 23 20
1480
7.16 10.1 11.76
15
57 67 100
2.5 3 3.5
237
GDB100-34
60 100 120
16.6 27.8 33.3
36 34 31
1480
8.44 11.9 13.5
18.5
70 75 75
3
276
GDB100-32
60 90 120
16.7 25 33.3
34 32 29
1480
9.58 10.7 12.88
15
70 78 75
2.5 2.5 3
283
Model
Capacity Q
Head H (m)
Rotation Speed n (r/min)
Break Power (KW)
Motor Power (KW)
Pump Efficiency η (%)
Net Positive Suction Head (NPSH) r (m)
Weight (kg)
(m3/h)
(l/s)
GDB100-32A
60 90 115
16.7 25 33.3
31 28 25.5
1480
7.34 9.03 10.5
11
69 76 74
2.5 2.5 3.0
270
GDB100-32B
48 76 100
13.9 22.2 30.6
27 24 20
1480
5.19 6.62 7.46
7.5
68 75 73
2.5 2.5 3.0
225
GDB100-50
60 100 120
16.7 27.8 33.3
52 50 47
1480
16.1 21 23.6
30
58 65 67
2.5 2.5 3.0
441
GDB100-50A
56 93.6 112
15.6 26 31.2
46 44 41
1480
13.2 17.5 19.6
22
53 64 67
2.5 2.5 3.0
384
GDB100-50B
54.6 90 108
15.2 25.2 30
40 38 35
1480
11.2 14.6 16.4
18.5
51 63 65
2.5 2.5 3.0
366
GDB100-50C
53 75.5 90.5
14.7 20.9 25.1
36 34 31.5
1480
9.19 10.9 11.8
15
56.5 64 65.5
3.0
326
GDB125-22
95 148 180
26.4 41.1 50
24.5 22 20
1480
9.18 11.3 12.9
15
69 78 76
3.5
278
GDB125-20
110 160 200
31.1 44.4 55.6
23 20 17
1480
19.4 11.31 12.3
15
71 77 75
2.5 3.0 3.5
277
GDB125-20A
104 150 190
28.8 41.6 52.7
20 17 15
1480
8.1 9.1 10.4
11
70 77 75
2.5 3.0 3.5
264
GDB125-34
90 148 172.8
25 41.1 48
36.5 34 30
1480
13.8 18.3 19.6
22
65 75 72
3.5
358
GDB125-32
110 160 200
30.6 44.4 55.6
36 32 28
1480
15 18.3 20.5
22
72 76 74.5
2.5 3 3.5
356
GDB125-32A
100 150 190
27.8 41.6 52.7
32 28 23
1480
12.3 15.3 16.1
18.5
71 75 74
2.5 3.0 3.5
340
GDB125-32A
90 140.4 180
25 39 50
29 25 20
1480
10.3 13.01 13.8
15
69 73 71
2.5 3.0 3.5
303
GDB125-50
110 160 200
30.6 44.4 55.6
55 50 45
1480
23.2 29 34
37
71 75 74
2.5 3.0 3.5
572
GDB125-50A
100 150 190
27.8 41.6 52.7
49 45 40
1480
19.1 24.7 28.7
30
70 74 72
2.5 3.0 3.5
530
GDB125-50B
90 140 168
26.4 40.2 51.4
43 37 33
1480
15.1 19.6 21
22
70 74 72
2.5 3.0 3.5
470
Model
Capacity Q
Head H (m)
Rotation Speed n (r/min)
Break Power (KW)
Motor Power (KW)
Pump Efficiency η (%)
Net Positive Suction Head (NPSH) r (m)
Weight (kg)
(m3/h)
(l/s)
GDB150-22
144 225 288
40 62.5 80
23.5 22 18.5
1480
13.2 16.6 18.6
22
70 81 78
3.2
398
GDB150-20
120 200 240
33.3 55.6 66.7
22.5 20 17.5
1480
10.8 14 14.8
18.5
70 79 78
2.5 3.0 3.5
339
GDB150-20A
112 187 224
31.1 51.9 62.2
19.5 17 15
1480
8.7 11.3 12.3
15
70 80 78
2.5 3.0 3.5
329
GDB150-20B
108 180 216
30 50 60
18 15 13
1480
7.8 9.45 10.1
11
68 77.8 75.3
2.5 3.0 3.5
316
GDB150-32G
144 240 288
40 66.6 80
34 32 28
1480
19.1 26.5 27.5
30
70 79 80
3.2
442
GDB150-32
129 216 259.2
85.8 60 72
34 32 29
1480
17.1 23.8 25.5
30
70 79 80
2.5 3.0 3.5
441
GDB150-32A
112 187 224
31.1 51.9 62.4
30 28 25
1480
13.1 18.1 19.1
22
70 79 80
2.5 3.0 3.5
385
GDB150-32B
104 173 208
28.9 48.1 57.8
25.5 24 21.8
1480
10.5 14.5 15.6
18.5
60 78 79
2.5 3.0 3.5
367
GDB150-49
144 245 300
40 68.1 83.3
55 49 44
1480
32.7 43 49.9
55
66 76 72
3.2
732
GDB150-49A
144 245 300
40 68.1 83.3
52 45 38
1480
31.4 40 43.7
45
65 75 71
3.2
648
GDB150-50
120 200 240
33.3 55.6 66.7
53 50 46
1480
27.9 36.3 40.6
45
62 75 71
2.0 2.8 3.5
645
GDB150-50A
112 187 225
31.1 51.9 62.5
47 44 40
1480
23.2 30 33.1
37
62 75 74
2.0 2.8 3.5
613
GDB150-50B
104.6 173 209
29.1 48.1 58.1
40 38 35
1480
18.7 24.4 27.4
30
61 74 73
2.0 2.8 3.5
568
GDB200-24
200 300 360
55.6 83.3 100
26 24 21
1480
17.92 24.2 25.7
30
78 81 80
2.5 3.5 4.0
492
GDB200-24A
198 280 340
55.1 77.8 94.4
20 18 15
1480
14.2 17.1 16.9
22
76 80 82
2.5 3.5 4.0
432
GDB200-24B
168 250 300
46.7 69.4 83.3
17 15 13
1480
10.4 12.9 13.3
18.5
75 79 80
2.5 3.5 4.0
414
Model
Capacity Q
Head H (m)
Rotation Speed n (r/min)
Break Power (KW)
Motor Power (KW)
Pump Efficiency η (%)
Net Positive Suction Head (NPSH) r (m)
Weight (kg)
(m3/h)
(l/s)
GDB200-32
200 300 360
55.6 83.3 100
33 32 30
1480
27.56 30.12 33.37
37
76.7 81.4 78.9
2.5 3.5 4.0
625
GDB200-32A
198 280 340
55.1 77.8 94.4
29 28 24
1480
20.57 26.52 28.49
30
76 80.4 78
2.5 3.5 4.0
582
GDB200-32B
200 300 360
55.6 83.3 100
26 24 21
1480
17.92 24.2 25.7
30
78 81 80
4.0
581
GDB200-48
200 300 360
55.6 63.3 100
51 48 43
1480
35.6 47.8 52.7
55
78 82 80
2.5 3.5 4.0
818
GDB200-48A
198 280 340
55.1 77.8 94.4
45 42 37
1480
31.51 39.53 43.36
45
77 81 79
2.5 3.5 4.0
771
GDB200-48B
168 250 300
46.7 69.4 83.3
40 37 32
1480
24.07 31.48 33.51
37
76 80 78
2.5 3.5 4.0
736
GDB2S0-20
240 400 460
66.7 111 130
22.6 20 17
1480
21.1 26.7 27.3
30
70 83 79
3.6 4.6 5.0
542
GDB2S0-20A
225 374.4 431
62.5 104 120
18.5 16 14
1480
15.96 19.63 21.01
22
71 82 78
3.0 3.5 4.0
486
GDB250-24
445 630 758
123.6 175 210.6
27.5 24 19
1480
40.9 49 50.3
55
80 84 78
4.2
706
GDB250-24A
420 600 726
116.7 166.7 201.4
22 20 17
1480
31.8 39.8 43.6
45
79 82 77
4.2
972
GDB250-26
240 400 480
66.6 111.1 133.3
34 30 25
1480
31.3 40.8 44.7
45
71 80 73
4.2
788
GDB250-32 (G250-32)
240 400 480
66.7 111 130
37 32 28.5
1480
34.6 42.5 44.6
55
70 82 80
3.0 3.5 4.0
945
GDB250-32A (G250-32A)
226 374 432
62.8 104 120
33 28 25
1480
29 35 41.6
45
70 82 80
3.0 3.5 4.0
898
GDB250-32B (G250-32B)
210 350 403
58.3 97.2 112
27.5 24 21.2
1480
23.3 28.6 30
37
67.4 79 77.5
3.0 3.5 4.0
863
GDB250-38
445 630 758
123.6 175 210.5
42 38 32
1480
66.97 75.55 83.62
90
76 83 79
5.0 6.2 6.5
1228
GDB250-38A
360 600 720
100 166.6 200
39 32 26
1480
53.9 64.12 67.1
75
71 80 76
5.0 6.2 6.5
1218
Model
Capacity Q
Head H (m)
Rotation Speed n (r/min)
Break Power (KW)
Motor Power (KW)
Pump Efficiency η (%)
Net Positive Suction Head (NPSH) r (m)
Weight (kg)
(m3/h)
(l/s)
GDB250-40A
258 430 516
71.67 119.4 143.3
36 32 26.5
1480
38.3 46.8 51.7
55
66 80 72
5.0 6.2 6.5
1058
GDB250-50
240 400 460
667 111 128
55 50 45
1480
48.6 67.2 74.2
90
74 81 76
3.0 3.8 4.5
1138
GDB250-50A
228 380 437
63.3 105.5 121.4
49 44.5 40
1480
41.8 57.9 63.8
75
72.7 79.5 75.5
3.0 3.8 4.5
1123
GDB250-50B
210 340 401
58.3 96.1 111.4
42 38 34
1480
32.8 45.1 48.9
55
73 80 76
3.0 3.8 4.5
1098
GDB300-15
360 500 612
100 138.9 170
18.5 15 12
1480
22.39 24.03 25.64
30
81 85 78
6.2
712
GDB300-15A
324 468 576
90 130 160
16.5 12.5 10
1480
18.66 19.43 20.64
22
78 82 76
6.2
655
GDB300-22
518 792 940
143.9 220 261
25 22 18.5
1480
47.7 57.9 62.3
75
74 82 76
6.2
1257
GDB300-17
450 750 900
150 208.3 250
20 17 14
1480
36.04 43.4 44.6
55
68 80 77
6.2
1132
GDB300-17A
375 625 750
104.2 173.6 208.3
20 17 15
1480
32.4 37.1 40.3
45
63 78 76
6.2
1045
GDB300-24
360 500 612
100 138.9 170
27 24 17
1480
33.1 38.4 38.6
45
80 85 82
6.2
905
GDB300-24A
300 500 600
83.3 138.9 166.7
22 20 17
1480
22.5 32.8 34.7
37
80 83 80
6.2
884
GDB300-25
612 800 915
170 222.2 254.2
27 25 20
1480
56.3 64.1 66.5
75
80 85 75
4.0
1250
GDB300-25A
560 750 850
155.6 208.3 236.1
23 20 17
1480
45 49.2 51.8
55
78 83 76
4.0
1225
GDB300-25G
700 900 1100
194.4 250 305.6
27 25 20
1480
164.4 72 77
90
80 85 78
5.2
1265
GDB300-25GA
700 900 1100
194.4 250 305.6
22 20 17
1480
57.5 59.1 67
75
73 83 78
5.2
1250
GDB300-32
450 750 900
125 208.3 250
35 32 28
1480
61.3 81.7 88
90
67 80 78
6.2
1316
Model
Capacity Q
Head H (m)
Rotation Speed n (r/min)
Break Power (KW)
Motor Power (KW)
Pump Efficiency η (%)
Net Positive Suction Head (NPSH) r (m)
Weight (kg)
(m3/h)
(l/s)
GDB300-32A
551 720 850
153.1 200 236.1
31 26 23
1480
58.15 60.69 67.39
75
80 84 79
5.2
1301
GDB300-38F
612 800 915
170 222.2 254.2
42.5 38 32.5
1480
76.5 97.4 98.8
110
81 85 82
5.2
1610
GDB300-38FA
540 765 850
150 212.5 236.1
36 32 28
1480
66.2 79.4 83.1
90
80 84 78
5.2
1326
GDB300-38G
700 900 1100
194.4 250 305.6
42 38 33
1480
97.6 112 118
132
82 83 84
4.5
1764
GDB300-38GA
700 900 1100
194.4 250 305.6
37 32 26
1480
89.3 94.5 97.4
110
79 83 80
1715
GDB300-40
360 500 612
100 138.9 170
43.5 40 33.5
1480
56.11 65.62 70.67
75
76 83 79
6.2
1174
GDB300-40A
324 468 576
90 130 160
36.5 31.5 26
1480
41.82 49.56 51
55
77 81 80
6.2
1053
GDB300-50
445 630 758
123.6 175 210.5
53 50 46
1480
80.28 100.9 126.6
132
80 85 75
6.2
1856
GDB300-50A
420 600 725
116.6 166.6 201.3
45 42 38
1480
72.49 83.69 102.8
110
71 82 73
6.2
1807
GDB300-65
360 500 612
100 138.9 170
71 65 56
1480
92.8 108.7 129.6
132
75 79 72
6.2
1888
GDB300-65A
324 468 576
90 130 160
61 54 50
1480
76.8 89.4 98
110
74 77 75
6.2
1838
GDB350-17
750 1250 1500
208.3 347.2 416.7
21 17 12
1480
71.5 82.7 84.5
90
60 70 58
6.2
1410
GDB350-17A
600 1000 1200
166.7 277.8 333.3
21 17 14
1480
64.8 68.1 70.4
75
53 68 65
6.2
1395
GDB350-20
612 800 935
170 222.2 259.7
23 20 16
1480
47.9 50.1 51.57
55
80 87 79
4.8
1158
GDB350-20A
504 720 829
140 200 230.2
20 17 14
1480
37.6 40.6 41
45
73 82 77
4.8
1113
GDB350-26
972 1260 1440
270 351 400
32 26 22
1480
99.7 101.5 105
110
85 87 83
4.8
1810
Model
Capacity Q
Head H (m)
Rotation Speed n (r/min)
Break Power (KW)
Motor Power (KW)
Pump Efficiency η (%)
Net Positive Suction Head (NPSH) r (m)
Weight (kg)
(m3/h)
(l/s)
GDB350-26A
864 1116 1296
240 310 360
26 21.5 16
1480
76.5 78.8 80
90
80 83 75
4.8
1685
GDB350-32
900 1200 1400
250 333.3 400
35 32 26
1480
115.9 134 135
160
74 78 75
6.2
1930
GDB350-32A
819 1092 1310
227.5 303.3 364
31 28 23
1480
96 109.5 112.4
132
72 76 73
6.2
1856
GDB350-32B
745 1000 1200
207 277.8 333.3
27 25 20
1480
78.3 92 92.1
110
70 74 71
6.2
1765
GDB350-44
972 1260 1476
270 350 410
50 44 37
1480
164 177.4 189
200
81 87 79
4.5
2566
GDB350-44A
864 1200 1332
240 333 370
41 36 30
1480
121 131 136
160
80 84 80
4.5
2456
GDB350-44B
900 1200 1300
250 333 361
35 30 28
1480
110 118.5 125.5
132
78 82 86
4.5
2385
GDB400-12.5
1200 1600 1900
333.3 444.4 527.8
14 12.5 10.5
980
58 64.8 67
75
78 84 81
6.5
1323
GDB400-12.5A
1092 1456 1720
303.3 404.4 480.5
12 10.5 9
980
45.7 50.1 52.3
55
78 83 80
6.5
1429
GDB400-20
1200 1600 1900
333.3 444.4 527.8
23 20 15
1480
92.8 102.5 104.8
110
81 85 74
6.5
1886
GDB400-20A
1092 1456 1720
303.3 404.4 480.2
19.5 17 13
1480
72.5 80.2 83.1
90
80 84 73
6.5
1825
GDB400-32
1200 1600 1900
333.3 444.4 527.8
35 32 26
1480
142.3 164 172.4
200
80 85 78
6.5
2360
GDB400-32A
1092 1456 1720
303.3 404.4 480.2
30 27.5 22.5
1480
112.9 129.8 137.6
160
79 84 77
6.5
2289
GDB400-32B
994 1325 1573
276 368 437.1
26 23.5 19
1480
91.1 103.4 108.5
132
77 82 75
6.5
2021
GDB500-13
1620 2020 2340
450 561.1 650
15 13 10.4
980
83.8 86.2 82.8
110
79 83 80
5.7
2650
GDB500-22
1620 2020 2340
450 561.1 650
24.5 22 19.4
980
140.4 144.1 145.4
160
77 84 85
5.7
3652
GDB500-22A
1400 1746 2020
389 485 561.1
20 17 15
980
103 101 105.8
132
74 80 78
5.7
3586
GDB500-27
1620 2020 2340
450 561.1 650
31 27 21
980
166.8 174.7 183.3
200
82 85 73
5.7
4122
Outline and installation dimensions

Model
Outline dimensions
Flange size
h
H
L
B
φd1
E
F
G
φD1
φD
b
n-d
GDB32-5
80
418
95
95
10
140
280
270
100
140
18
4-18
GDB32-8
100
440
140
140
10
160
320
270
100
140
18
4-18
GDB32-12.5
100
471
140
140
10
180
360
300
100
140
18
4-18
GDB32-20
105
513
220
190
14
241
482
315
100
140
18
4-18
GDB32-20A
105
488
220
190
14
241
482
315
100
140
18
4-18
GDB40-5
120
410
195
140
14
150
31
270
110
150
18
4-18
GDB40-8
125
485
195
140
14
160
340
300
110
150
18
4-18
GDB40-12.5
110
488
200
170
14
190
380
345
110
150
18
4-18
GDB40-12.5A
110
476
200
170
14
190
380
345
110
150
18
4-18
GDB40-20
105
540
220
190
14
225
450
350
110
150
18
4-18
GDB40-20A
105
505
220
190
14
225
450
350
110
150
18
4-18
GDB40-30(A)
110
550
260
220
14
250
510
410
110
150
18
4-18
GDB50-8(A)
105
480(460)
200
170
14
210
400
310
125
165
20
4-18
GDB50-12.5
115
512
200
170
14
180
390
350
125
165
20
4-18
GDB50-12.5A
115
487
200
170
14
180
390
350
125
165
20
4-18
GDB50-17
105
540
220
190
14
225
450
410
125
165
20
4-18
GDB50-20
105
540
220
190
14
225
450
410
125
165
20
4-18
GDB50-30
110
575
220
190
14
250
510
410
125
165
20
4-18
GDB50-30A
110
555
220
190
14
250
510
410
125
165
20
4-18
GDB65-8
125
535
200
170
14
200
400
300
145
185
20
4-18
GDB65-12
120
565
220
190
14
225
450
320
145
185
20
4-18
GDB65-12A
120
505
220
190
14
225
450
320
145
185
20
4-18
GDB65-20
120
565
200
170
14
270
540
315
145
185
20
4-18
GDB65-20A
120
565
200
170
14
270
540
315
145
185
20
4-18
GDB65-32
135
665
280
230
14
290
590
420
145
185
20
4-18
GDB65-32A
135
665
280
230
14
290
590
420
145
185
20
4-18
GDB65-32B
135
600
280
230
14
290
590
420
145
185
20
4-18
GDB80-8
160
630
210
180
18
220
460
360
160
200
22
8-18
Model
Outline dimensions
Flange size
h
H
L
B
φd1
E
F
G
φd1
φD
b
n-d
GDB80-12(A)
135
600(580)
220
190
14
240
480
350
160
200
22
8-18
GDB80-20
130
660
255
215
14
250
515
410
160
200
22
8-18
GDB80-20A
130
595
255
215
14
250
515
410
160
200
22
8-18
GDB80-20B
130
575
255
215
14
250
515
410
160
200
22
8-18
GDB80-32
155
815
280
240
14
280
565
480
160
200
22
8-18
GDB80-32A
155
725
280
240
14
280
565
480
160
200
22
8-18
GDB80-32B
155
685
280
240
14
280
565
480
160
200
22
8-18
GDB100-12
170
700
270
230
14
280
565
410
180
220
24
8-18
GDB100-12A(B)
170
655
270
230
14
280
565
410
180
220
24
8-18
GDB100-15
140
710
300
260
14
280
580
420
180
220
24
8-18
GDB100-19
140
710
300
260
14
280
580
420
180
220
24
8-18
GDB100-19A
140
670
300
260
14
280
580
420
180
220
24
8-18
GDB100-21
140
670
300
260
14
280
580
420
180
220
24
8-18
GDB100-22
140
785
300
260
14
280
580
430
180
220
24
8-18
GDB100-32(A)
155
860(815)
300
260
14
315
650
500
180
220
24
8-18
GDB100-32B
155
730
300
260
14
315
650
500
180
220
24
8-18
GDB100-50(A)
200
1050
300
260
14
360
720
580
180
220
24
8-18
GDB100-50B(C)
200
985
300
260
14
360
720
580
180
220
24
8-18
GDB125-20(A)
190
896(851)
280
240
18
330
690
520
210
250
26
8-18
GDB125-32(A/B)
200
985
280
240
18
360
760
560
210
250
26
8-18
GDB125-34
200
945
280
240
18
360
760
560
210
250
26
8-18
GDB125-50
210
1064
360
300
22
365
780
660
210
250
26
8-18
GDB125-50(A/B)
210
1064(1049/984)
360
300
22
365
780
660
210
250
26
8-18
GDB150-20
205
1042
280
240
18
355
715
550
240
285
28
8-23
GDB150-20A(B)
205
912(867)
280
240
18
355
715
550
240
285
28
8-23
GDB150-22
205
1082
280
240
18
355
715
550
240
285
28
8-23
GDB150-32G
204
1049
380
300
20
355
735
600
240
285
28
8-23
GDB150-32
204
1049
380
300
20
355
735
600
240
285
28
8-23
GDB150-32A(B)
204
1044
380
300
20
355
735
600
240
285
28
8-23
GDB150-49
210
1784
380
300
20
400
850
650
240
285
28
8-23
GDB150-49A
210
1699
380
300
20
400
850
650
240
285
28
8-23
GDB150-50
210
1699
380
300
20
400
850
650
240
285
28
8-23
GDB150-50(A/B)
210
1574(1659)
380
300
20
400
850
650
240
285
28
8-23
GDB200-24
230
1125
400
320
24
380
800
590
295
340
30
12-23
GDB200-24A(B)
230
1080(1050)
400
320
24
380
800
590
295
340
30
12-23
GDB200-32
245
1205
400
320
24
400
850
700
295
340
30
12-23
GDB200-32A(B)
245
1065
400
320
24
400
850
730
295
340
30
12-23
GDB200-48
260
1726
450
360
27
500
950
730
295
340
30
12-23
GDB200-48A(B)
260
1135
450
360
27
500
950
730
295
340
30
12-23
GDB250-20(A)
280
1060
380
300
27
450
900
610
355
405
32
12-23
Model
Outline dimensions
Flange size
h
H
L
B
φd1
E
F
G
φd1
φD
b
n-d
GDB250-24(A)
260
1626(1620)
450
300
27
500
950
630
355
405
32
12-23
GDB250-26
260
1426
450
360
27
500
95
630
355
405
32
12-23
GDB250-32
260
1680
450
360
27
500
950
680
355
405
32
12-23
GDB250-32A(B)
260
1600(1575)
450
360
27
500
950
680
355
405
32
12-23
GDB250-38(A)
265
1705
480
400
24
550
1100
750
355
405
32
12-23
GDB250-40A
360
1608
510
450
24
500
1100
665
355
405
32
12-23
GDB250-50
290
1863
450
360
27
470
1020
760
355
405
32
12-23
GDB250-50A(B)
290
1813(1743)
450
360
27
470
1020
760
355
405
32
12-23
GDB300-15(A)
310
1160(1095)
500
400
27
500
1050
670
410
460
34
12-26
GDB300-17(A)
290
1610(1580)
500
400
27
500
1100
665
410
460
34
12-28
GDB300-22
310
1610
500
400
27
500
1100
690
410
460
34
12-28
GDB300-24(A)
310
1600(1575)
500
400
27
500
1050
690
410
460
34
12-28
GDB300-32(A)
255
1800
520
440
27
500
1000
710
410
460
34
12-28
GDB300-38F
280
2240
560
500
27
550
1100
730
410
460
34
12-28
GDB300-38FA
280
2070
560
500
27
550
1100
730
410
460
34
12-28
GDB300-38G
280
2270
560
500
27
550
1100
730
410
460
34
12-28
GDB300-38GA
280
2240
560
500
27
550
1100
730
410
460
34
12-28
GDB300-40
360
1676
520
450
25
500
1100
750
410
460
34
12-28
GDB300-40A
360
1606
520
450
25
500
1100
750
410
460
34
12-28
GDB300-50
265
2145
560
500
27
600
1200
940
410
460
34
12-28
GDB300-50A
265
2095
560
500
27
600
1200
940
410
460
34
12-28
GDB300-65
265
2145
560
500
27
600
1200
940
410
460
34
12-28
GDB300-65A
260
2095
560
500
27
600
1200
940
410
460
34
12-28
GDB350-17
320
1835
510
460
27
750
1500
730
470
520
36
16-28
GDB350-17A
320
1835
510
460
27
750
1500
730
470
520
36
16-28
GDB350-20(A)
290
1855(1770)
450
400
27
500
1100
760
470
520
36
16-28
GDB350-32
290
1950
560
500
27
550
1100
780
470
520
36
16-28
GDB350-32A(B)
290
1770(1750)
560
500
27
550
1100
780
470
520
36
16-28
GDB350-44
320
2280
510
460
27
600
1200
940
470
520
36
16-28
GDB350-44A(B)
320
2235
51
460
27
600
1200
940
470
520
36
16-28
GDB400-14.5
320
2255(1835)
580
500
32
800
1600
956
515
565
34
16-28
GDB400-20(A)
320
2155
580
500
32
800
1600
996
515
565
34
16-28
GDB400-32
320
2335
580
500
32
800
1600
1115
515
565
34
16-28
GDB400-32A(B)
320
2335(2155)
580
500
32
800
1600
1115
515
565
34
16-28
GDB500-13
400
2235
1180
1060
40
775
1550
976
620
670
34
20-28
GDB500-22(A)
400
2550
1180
1060
40
775
1550
1000
620
670
34
20-28
GDB500-27
400
2850
1180
1060
40
775
1550
1000
620
670
34
20-28