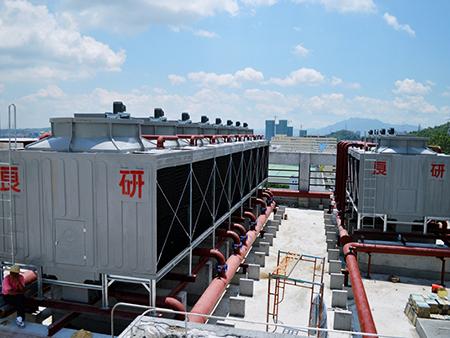 Description
The crossflow cooling tower casing and base are both made of a corrosion, acid, and alkali resistant advanced fiberglass reinforced plastic (FRP). The overall dimensions of the cooling tower can be customized according to specific customer requirements, and the direct heat rejection equipment is used in most areas where a cooling tower is required, such as a central air-conditioning system, industrial manufacturing equipment. Multiple cooling towers can be flexibly assembled and easily installed. When the open-circuit heat-rejection equipment is working, the water flows down along the PVC fillings, resulting in low noise levels. In addition, the evaporative cooling system can be designed as an ultralow noise cooling tower with the simple addition of a fan stack. The cooling tower system can also be automatically opened or closed according to an increase or decrease in water flow, thus saving energy. The air inlet is equipped with air guiding louvers, and the air outlet is equipped with a drift eliminator with a drift emission lower than 0.001%. An access door is set up externally, with an interior maintenance platform and hanging fill sheets that allow for easy maintenance.
Model Selection
Working principle
The hot water in the crossflow cooling tower flows through the distribution basin and is evenly scattered on the fill media, which is capable of heat absorption and evaporation across a large area. A top efficient fan then brings in cold air from outside, brings it into contact with hot water for a heat exchange process, which then reduces the water temperature for water recycling.
Structure drawings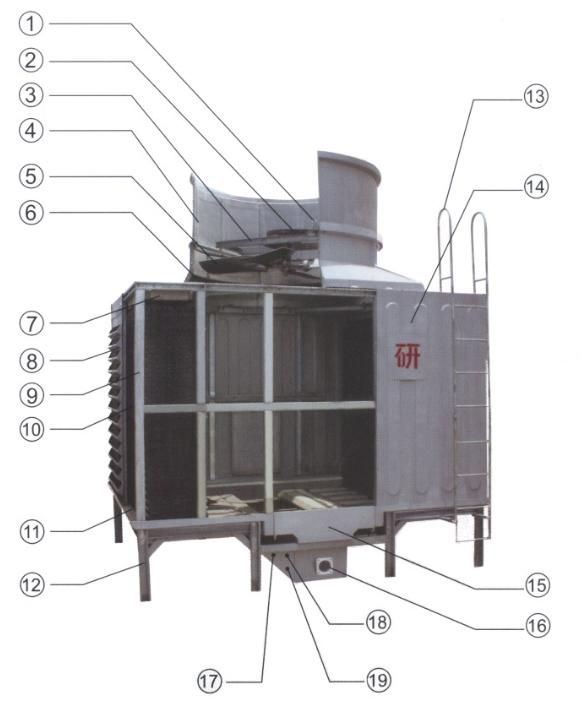 1. Motor
2. Reducer
3. Motor Support
4. Fan Stack
5. Exhaust Fan
6. Fan Deck
7. Distribution Basin
8. Louvers (*)
9. Frame
10. PVC Fillings
11. Water Basin
12. Tower Support
13. Ladder
14. Casing
15. Suction Tank
16. Cold Water Outlet Pipe
17. Automatic Filler Pipe
18. Quick Filler Pipe
19. Drain Pipe
Core components
Motor
The IP55 motor is a special, fully enclosed motor for cooling towers. As it is waterproof and corrosion resistant, it is ideal for high temperature, highly humid cooling tower environments.
Fan
The fan is made of aluminum alloy and designed with wide twisted blades. It features a large air volume and low noise operation at low speeds.
Fill media
The low wind-resistance, hanging-type PVC fillings feature a high heat transfer efficiency and less electric energy consumption.
Optional accessories
Guardrail, safety cage
Silencer fan stack
Air outlet can be mounted with 30° to 60° angled discharge air cylinder, less fan noise
The structural frame can be made of stainless steel S304, S316, or other materials specified by customers.
High temperature resistant PP fill media is available.
Fastening screws can be made of 304 stainless steel.