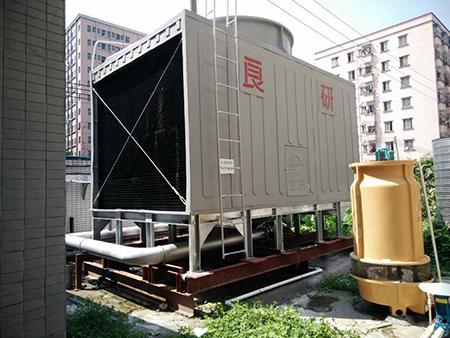 Description
General heat-rejection devices are placed on building rooftops. However, because this crossflow cooling tower is ideal for special environments, it can be installed in middle building floors. A fan exhaust structure is used, as air enters from one side and exits on the other. With its installation in the middle of the building, the system also saves energy. Water flows slowly down the PVC fillings, thus controlling noise and ensuring noise remains at low levels.
Model Selection
Working principle
The hot water in the crossflow cooling tower travels through the distribution basin and falls uniformly on the PVC film sheets which then absorb heat and further evaporate the water in large areas. An efficient fan installed at the top then draws in cold air from outside, brings it into contact with hot water, and ensures the heat exchange process happens for water evaporation. In doing so, the water temperature is reduced for water recycling.
Structure drawings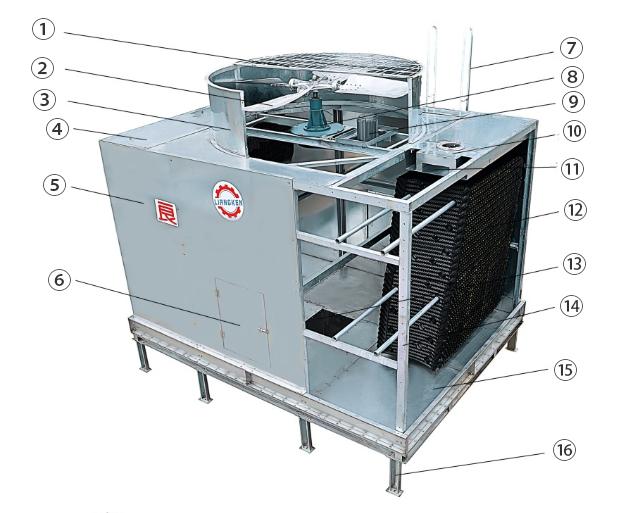 1. Fan Guard
2. Fan
3. Fan Stack
4. Distribution Cover
5. Casing
6. Access Door
7. Ladder
8. V-Belt Reducer
9. Motor
10. Distribution Box
11. Hot Water Basin
12. Infill
13. Suction tank
14. Frame
15. Basin
16. Low Frame
Core components
Frame
The entire tower body of the evaporative cooling system is designed with an all-steel structure, which is recyclable and generates no pollution. This makes it an environmentally friendly evaporative cooling product.
Motor
The open-circuit heat-rejection equipment is equipped with a fully totally enclosed motor, which features an IP55 waterproof grade and corrosion resistance, making it suitable for cooling towers used in high temperature and highly humid environments.
Fan
The fan is made of aluminum alloy and designed with wide twisted blades, thus featuring a large air volume and low noise when running at low speeds.
Fill media
Low wind-resistance PVC hanging fill sheets allow for a high heat transfer efficiency and electric energy saving.
Optional accessories
Guardrail
304/316 stainless steel frame
High temperature accessories
Gear reducer
Shock absorber and two-speed motor